What is SPI Online?
A platform of resources for impact-driven organizations to assess and improve their social and environmental performance.
For over two decades, Cerise+SPTF and their partners have been collaborating to define standards, tools and resources for a responsible, inclusive economy with strong social and environmental impact. The quality of our tools reflects this long-standing expertise.
SPI Online Features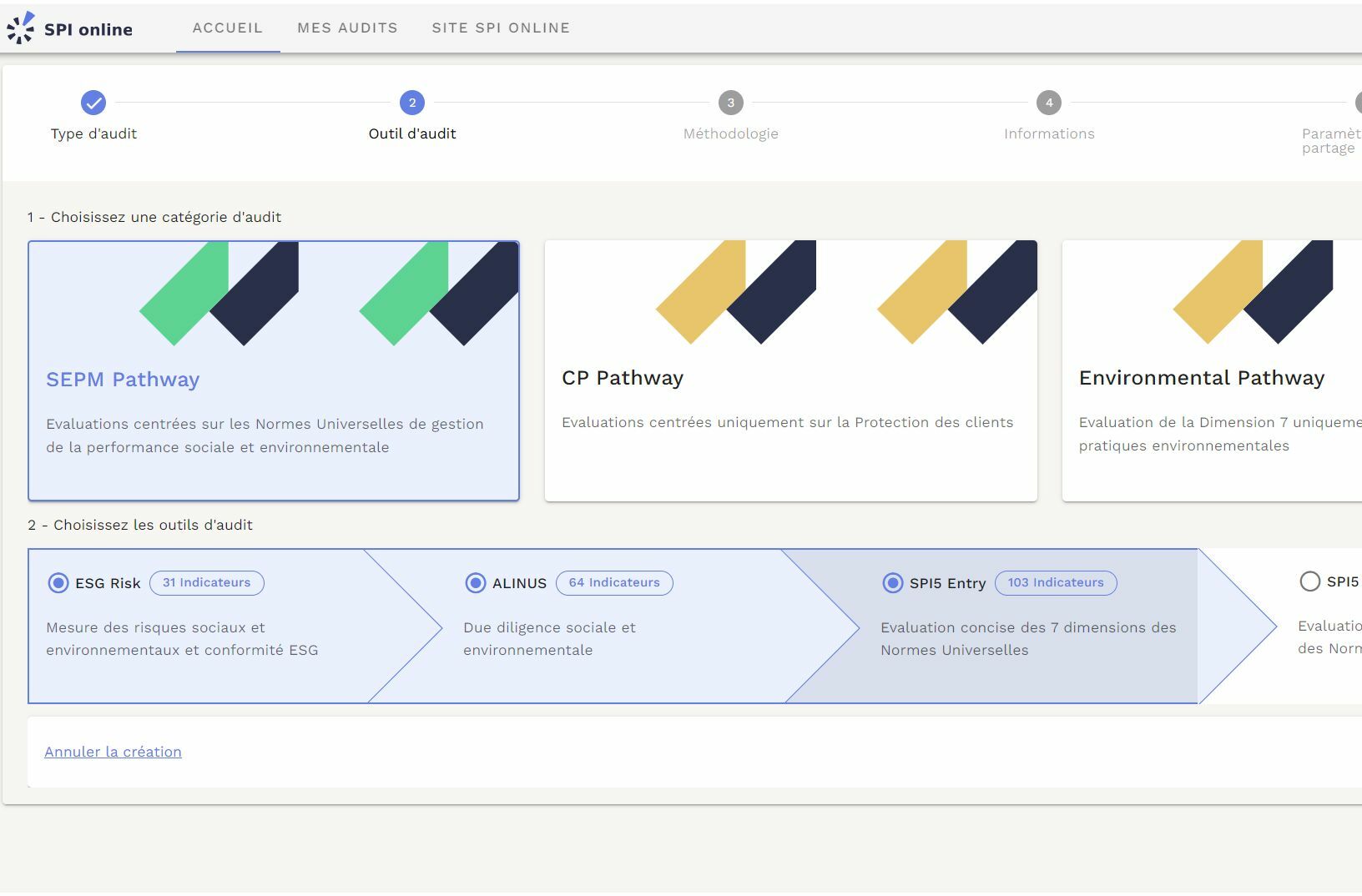 Find the right tool for your needs, whether you are an expert or a novice in social and environmental performance management. SPI Online offers tools for ESG risk management, reporting, responsible investment selection, social audit, and client protection certification.
Learn more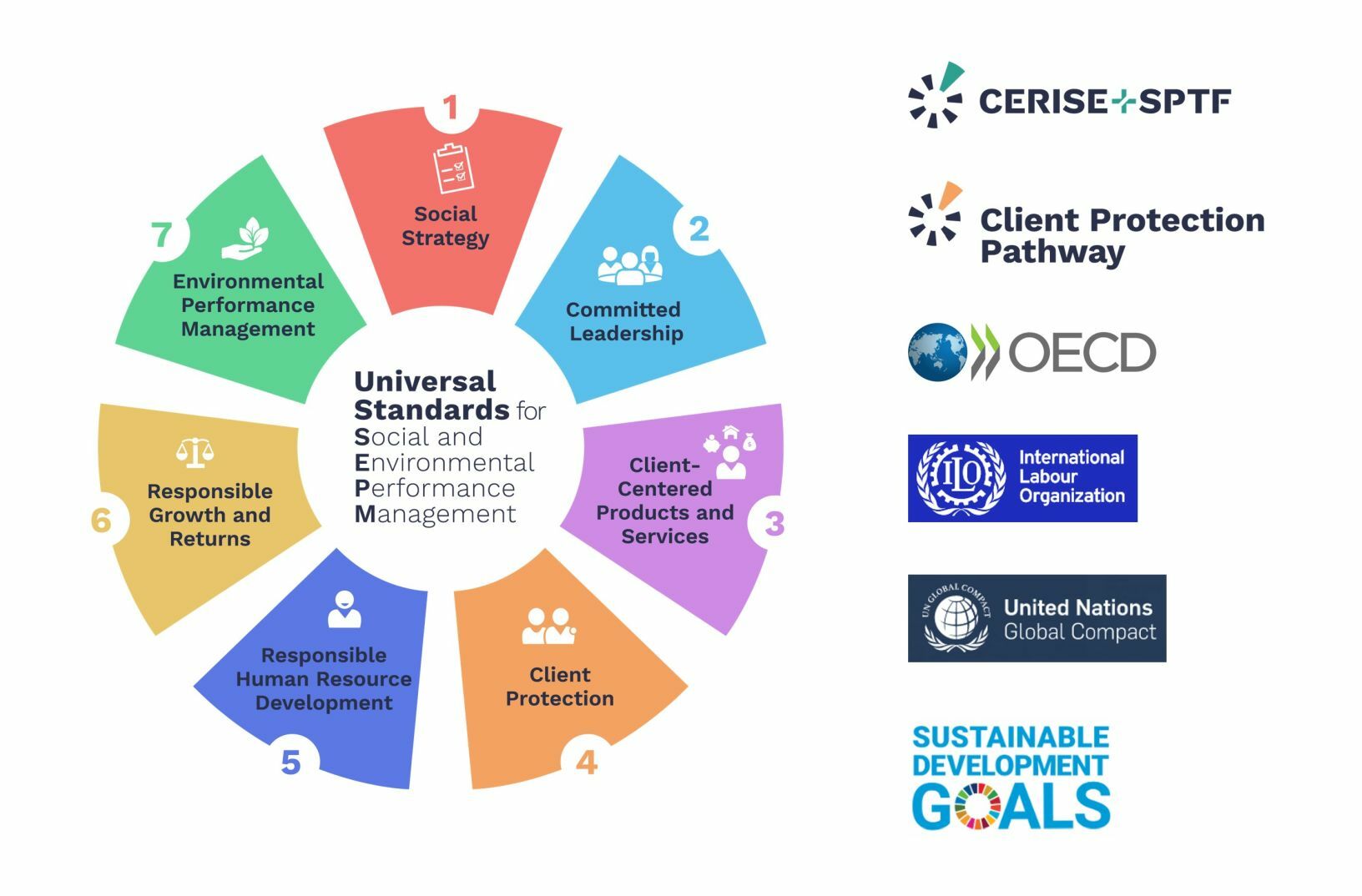 Simplify your reporting requirements with tools that promote a common language for measuring impact performance. Our tools are aligned with international standards and the leading frameworks for sustainable development.
Learn more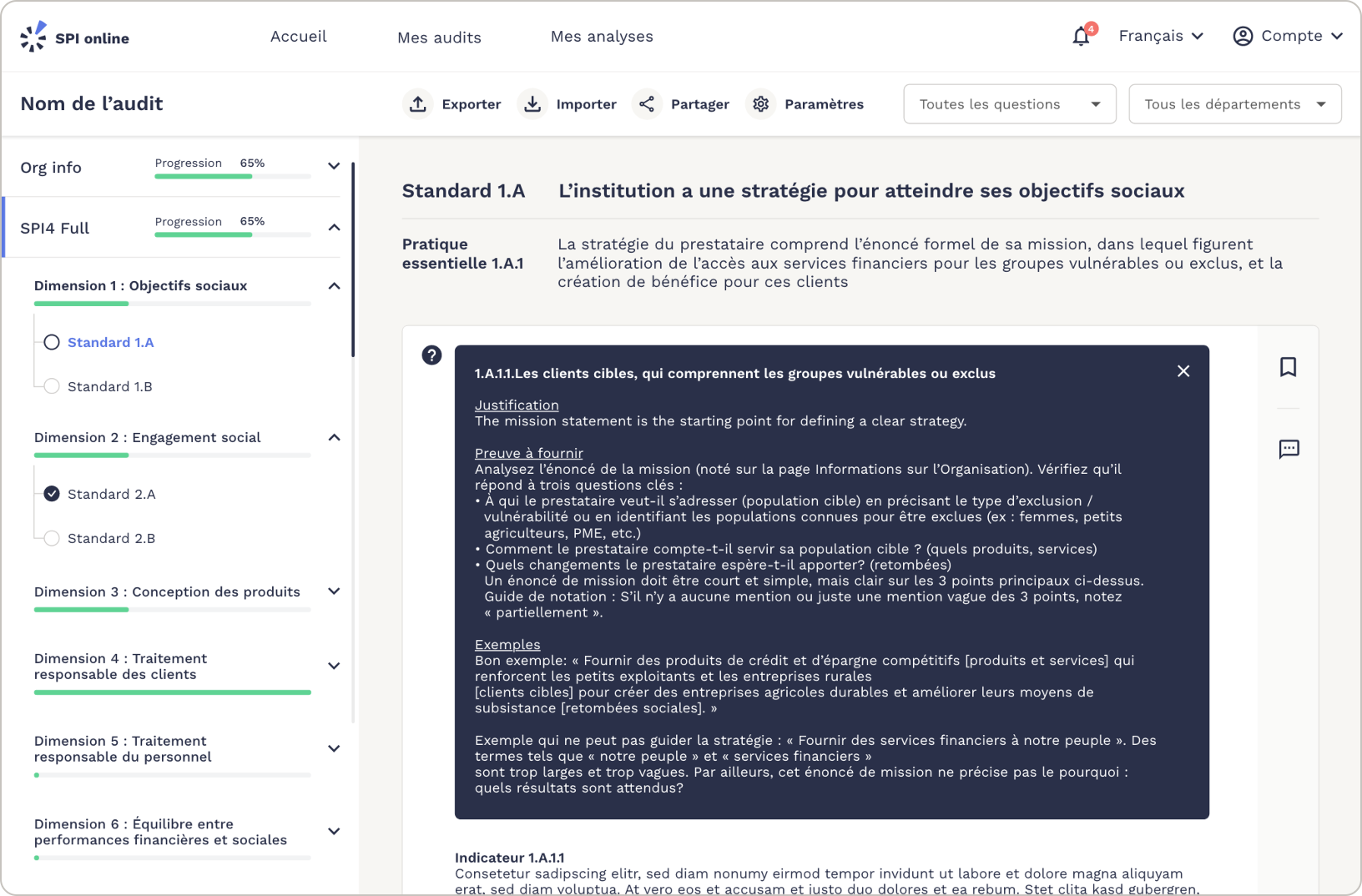 Be guided through your assessment with definitions, examples of best practices, and scoring tips.
Learn more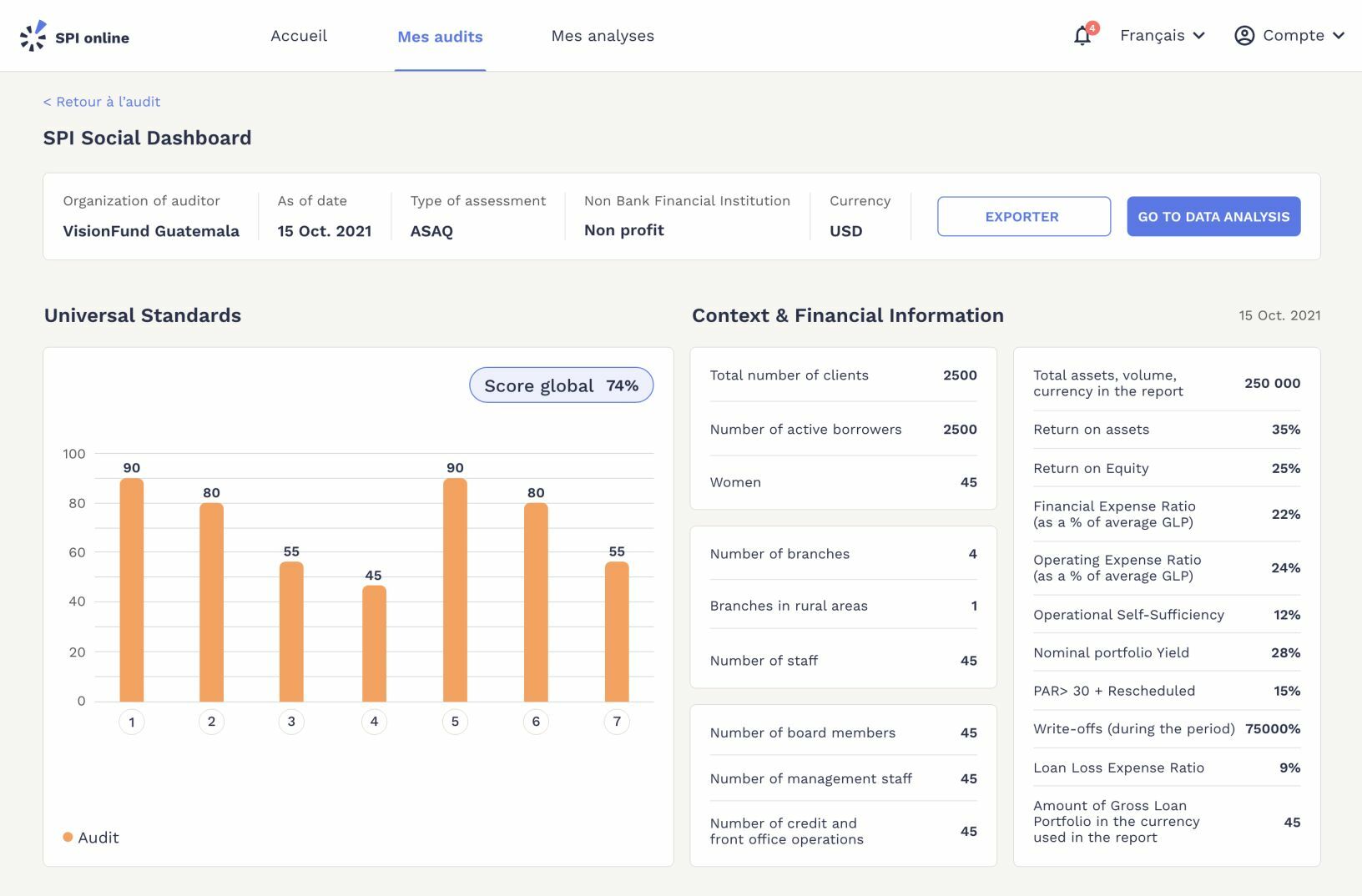 Visualize your results with dashboards designed to generate actionable insights that help you analyze strengths and weaknesses, manage ESG risks, and develop your social and environmental strategy.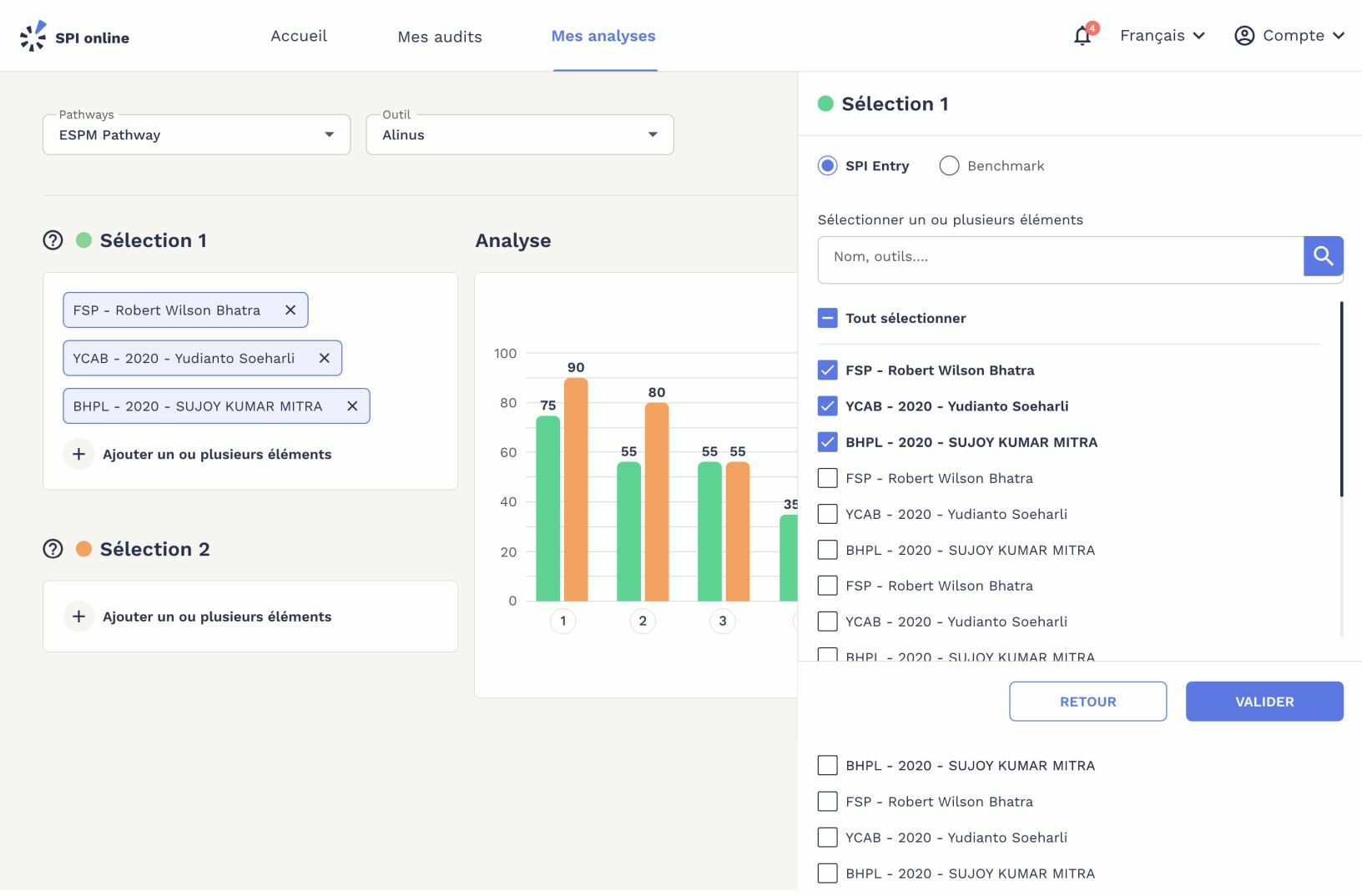 Analyze your results against peers and identify opportunities for improvement by comparing yourself to a customizable selection of audits.
Get support
Training
Build your assessment skills by following our free, self-paced online training, or certifying supervised coaching.
Resources
Gain insight to make the most of audits.
Expertise
Benefit from personalized support.
Testimonials
4G Capital

"The new SPI online platform looks absolutely great. A framework where we can measure and share our impact results and client protection outcomes, using a common language and set of values is crucial as we grow our businesses within this sector. Congratulations! We are so excited to be part of this journey."
Pro Mujer

"SPI has always been a very dynamic, open and proactive tool that has allowed us to act and have a reference for our practices."
Incofin Investment Management

"SPI was a source of inspiration and a reference when we developed our own social due-diligence tools. Because the whole approach of Cerise+SPTF is based on inclusion. The assessment tools are the result of a collection of practices and experiences of stakeholders, a very pragmatic and field-oriented approach. [...] The tools are tested and improved over the years, which makes them very relevant. And all the tools developed by Cerise+SPTF have become public goods, available to us all, with the aim of creating standards for measuring social performance."
BRS - Belgian Raiffeisen Foundation

"Many thanks for the benchmarking tool, it is not only very useful and clear but also beautiful way of presenting the numbers."
Crédit Rural de Guinée (CRG)

"Cerise and Crédit Rural have a long common history! And we are really happy with what this long experience has brought to us. The social aspect was necessary for our institution to be sustainable. Thanks to the SPI social audit tools, Crédit Rural de Guinée has become more resilient facing the various crises the country has encountered."
Busaa Gonofaa

"The tools allow us to think and do things in our own way, not just in a commercial way."
ACEP Madagascar

"It's great that things are constantly evolving at Cerise+SPTF for the benefit of our business."
Our main partners
News
Cohort-based courses in English, supervised by a qualified instructor, and validated with a training certificate from Cerise+SPTF.
SPI Online is constantly evolving and updating. Learn about the next key features yet to come, and the technical resources.
See all news
Join thousands of users on SPI Online
Powerful evaluation tools to turn intentions into impact.